Lets talk Spring Decor!
I love the transition between winter and spring. Winter has so many gorgeous dark and deep colors that make you feel so warm and cozy. Spring comes at the right time with a flood of  bright and popping pinks! As soon as it gets warm I like everything in my house to sing "SPRING!". So I have started getting ready for those fresh blooms, April showers and the feeling of starting new.
My husband and I have not lived at "home" for almost fifteen years. Every time we move I need to create a space that feels like "home" to me. An oasis to come back to and feel at peace in. Having that space and creating it into something you love and can be proud of, I find extremely important. Of all places your home should be where you are most comfortable.
THE TABLE
The search for the perfect Spring Decor started at Target, specifically Target's dollar section. They have such a wide variety with unique pieces that won't "Anthro" your wallet (I am referring to Anthropologie which burns a hole straight through my pocket and lights my pants on fire;)).I found so many cute details to add to a spring table.
 Place card holders are a great way to add a theme or a pop of color to any table.
THE LIFE
One thing I knew I wanted this year was a house plant. As many of you probably know, buying a house plant is quite the commitment. A commitment that in the past I have not always dedicated myself to. More often than not my house plants magically die. It is for sure NOT because I forget to water them…. that would be irresponsible 😉
However, this year things are different.This year I am a plant person. I am going to love those plants as if the plant's life depended on it! I went to Lowe's to find the perfect house trained plant. I was pleasantly surprised to find they had a lot to choose from for a reasonable price. I know plants can be a bit pricey but I think they are worth it because they can, Lord willing, last a long time. I went for Elephant Ears. It is a good size and has lots of color.
Nothing screams "SPRING!" more than fresh flowers. Trader Joe's  has the most gorgeous blooms. When picking flowers it can be easy to get out of control. Being sure not to flood the table with every color on under the sun is key. The more colorful the blooms the more simple vases. I went for a light purple bloom and accented it with some warmth and bright yellow daffodils. I also picked up some succulents to add more life to the room without overpowering it with color.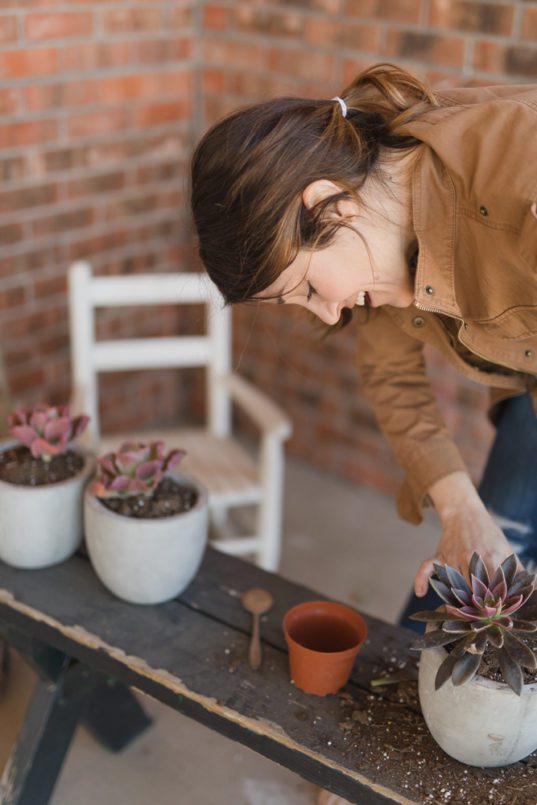 THE MAGIC
I got these concrete pots a few years ago window shopping in Boulder.  I love the look of the succulents in them. Getting my hands in the dirt always seems to take me back to my roots, days out in the fields of Lancaster, Pa, on my family's farm. Although, I must say, this was much more enjoyable.;) Succulents are a great option for spring decor. If you can keep them alive they can give color to a room year round.
Repurposing items is an obsession of mine.  For instance, this old vintage water pitcher I found thrifting, I decided to use as a flower vase.  It just adds a touch of color to my more neutral buffet table.
Almost all of the vases in my home are from a thrift store. I am very into the classic vintage look. The contrast with something worn and used against something fresh and bright like flowers is magical!
 I drive some of my friends crazy but I almost never decorate with symmetry.  When it comes to overall design of a space I usually use symmetry and want to achieve balance.  When it comes to placement of smaller pieces of decor, I almost always like things a little off kilter.  I tend to be a bit of a profectionist and maybe I've realized over time that nothing in this life is ever perfect and I've learned to embrace some of that. Or maybe I'm just crazy. Either way….When decorating do what is pleasing to your eye when it comes to design, not just what Martha Stewart says. 😉

Remember, simple can make a statement too and sometimes less is more.  Just a few flowers lining a table, a vintage table clothe, and some cute place settings can make a huge statement.  Happy Spring Everyone!